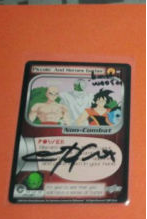 We here at Alex's DBZ RPG 5 sure love our members. That's why we decided to give away a unique prize for Valentine's Day this year. One lucky winner will receive a DBZ CCG card autographed by the one and only Chris Sabat. The card is a rare from the Frieza Saga called Piccolo and Heroes Gather. It's signed by Sabat with the unique phrase "Bunch of Wooses" written as if Piccolo was saying the line (he must have meant to write wusses...LOL).
Sabat was the voice actor for many characters from Dragon Ball Z and Dragon Ball Kai such as Vegeta, Piccolo, Yamcha, Kami and many more. He also did voices for tons of other animes such as Alex Louis Armstrong from Fullmetal Alchemist, Roronoa Zoro from One Piece, and Kazuma Kuwabara from Yu Yu Hakusho to name a few.
This is a great collectors item for anime fans even if you don't have any other cards.
To win this prize, all you need to do is post a reply on the
official entry thread
stating you would like to enter. Entries are only accepted until 3:00 AM EST on February 15th. One winner will then be randomly selected.
Rules:
Limit one entry per member. You must be a member of the RPG whose join form was accepted on or before February 13th, 2012. You must live within the continental United States to enter. Also please only enter if you are willing to privately give Alex your shipping address (if you're under 18 years of age please seek parental approval). Your information will be kept confidential. Good luck!