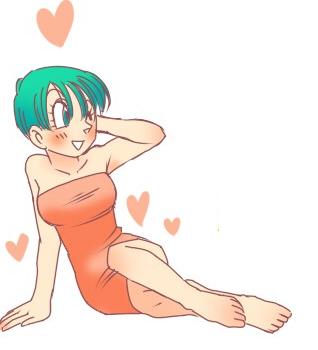 Ah Bulma, the sexiest female in the universe. Men want to be with her and women want to... also be with her. ;) Bulma is known for more than just her
amazing
C cup breasts. She also runs Capsule Corp! Her gay son, Future Trunks, recently went back to the future to shop for a new vest but accidentally left his legendary sword behind. Being the little attention-seeker that she is (ICly of course), Bulma is giving this famous sword away to whomever writes her the best love letter. Who knows, maybe she'll also send
me
you a picture of her in a babydoll.
PM your love letter to Bulma on the forum (
click here
to do so). It should be written in character, in a standard letter format (so for example, start it with "Dear Bulma," or something). Tell her about how great she is, how you are overcome with uncontrollable lust while peeking around corners at her, or how it must have hurt when she fell from heaven. Whatever floats your boat (or what you think will float hers). Just don't let Vegeta find out you sent it! She will then pick the best one to win the sword. Remember, it's a letter not a thesis. Don't make it too long! Entry period begins now and ends on September 13th, 2013.
The sword isn't just some measly in-game item, we will actually ship this out to you in the real! It is a full 43" real life replica of Trunks' sword from the show. It's made of real steel, comes with a leather sheath and strap, and also includes a hanging plaque to put it on your wall. Just check out the picture below. You know you want this thing. It is valued at approximately $65. Lilly/Bulma is sponsoring this contest by providing us with the prize so be sure to thank her for being so awesome next time you see her in cbox.
Some rules: being that it's pretty much a real sword, please be 18 or older or at least have your parents permission before entering this contest. Limit one entry per member (that includes second souls) and you must be a member whose join form was accepted on or before September 6th, 2013 to be eligible to enter. Like most of our good giveaways, this prize is also only open to residents of the continental United States. Sorry

, looks like you'll have to stick to writing Dawn love letters.
Every entry will also receive +300 zeni, +2 DP, +20 all stats, +3 rp Credits, and +10 exp. You can still enter to get this bonus even if you live outside of the U.S.