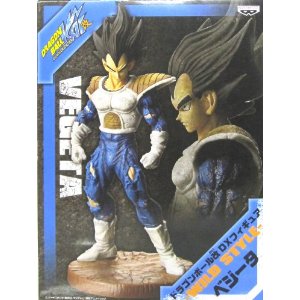 In our fourth annual Christmas giveaway we are giving away a cool Banpresto Dragon Ball Kai Wild Style Figure (valued at around $39.99). The figure is approximately 7.5 inches tall and is a great collectible piece. It's brand new in the box.
All you need to do to enter is post a reply on the
official entry thread
stating that you would like to enter. Entries will only be accepted between December 8th, 2011 and December 23rd, 2011. Any entries submitted prior to or after those dates will not be counted. A winner will then be randomly selected and announced on December 24th.
Limit one entry per member. You must be a member of the RPG whose join form was accepted on or before December 6th, 2011 to enter. Also please only enter if you are willing to privately give Alex your shipping address (if you're under 18 years of age please seek parental approval). Your information will be kept confidential.
First place prize will go to someone who lives within the continental United States
. If you are outside the U.S. and you win first place, the figure will go to the next person down (you'll still get the other stuff). Good luck!
First Place: Vegeta Figure, +1,000 zeni, +250 all stats, +100 exp, +10 DP
Second Place: +200 all stats, +100 zeni, +50 exp, +5 DP
All Entries: +100 all stats