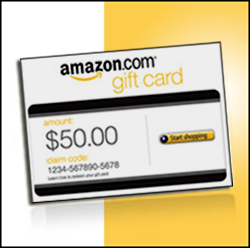 As usual, Alex's DBZ RPG 5 is giving away a special gift to our members for Christmas. This year's winner will receive a
$50 gift card
to Amazon.com sent to their e-mail address. One second place winner will receive a free eBook version of my book
"Creating an Online Roleplaying Game."
All entries will also receive a special holiday bonus of +50 all stats.
To enter simply fill out the form below completely. Winners will be drawn randomly and announced on December 20th.
Entries will be accepted December 12th - 19th
. Any entries submitted prior or after those dates will be thrown out. Limit one entry per member. Must be a member of the RPG whose join form was accepted on or before December 9th, 2010 to enter. All information submitted is kept confidential. The gift card will be sent to the e-mail that you submit so please make sure it is valid and written correctly!
Click here to put a form like this on your site.