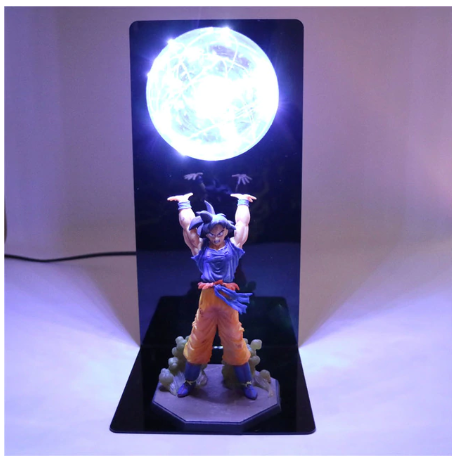 This past June, Alex's DBZ RPG quietly celebrated its 20th anniversary. The very first version of ADBZRPG opened its doors at the beginning of June all the way back in 2000. We have been going strong for over 20 years now, and I honestly cannot think of one other DBZ RPG on the internet that can say the same.
Despite our tenure on the web, ADBZRPG has shown no signs of slowing down. We still have a very strong, active community of both new players and veterans alike. The game still has not grown stale even after all this time.
To do a more official celebration, I wanted to run a giveaway. I wanted to do something that was unique compared to stuff we've previously given away and came across this Goku Spirit Bomb Lamp. It's worth approximately $30 and is made of acrylic and PVC. The light itself is LED. It came from China so I checked it out to make sure it was all there (since for some reason there was no box...) and it looks pretty cool though I didn't test it because I wanted it to remain new.
Anyway, standard rules will apply. You have to be in the continental United States to win. One entry per member (that doesn't mean per character). There will be a thread on the forums to post in to enter. Entry period will close on August 31st at midnight, eastern time. If you're under 18 please get parents permission to enter first as I will need you to PM me your shipping address information to send the prize.
Good luck!
I also wanted to use this opportunity to let you guys know about a free ebook that I wrote that includes the history of ADBZRPG. It's a 56 page PDF and completely free to download so what do you have to lose? Check it out below:
Description:
A collected 20 year history of the longest running and most popular play-by-post DBZ RPG ever created on the internet: Alex's DBZ RPG.
Format:
ebook PDF. 56 pages.
Price:
Free!